Joe Kurz Meet - Jan 31, 2004
Bill Farrell wrote: THANK YOU Kevin and Felicia!
I had a great time today at Joe Kurz. It was a beautiful day and Kevin gave us a set of courses to satisfy our orienteering needs. At first glance I was sure the Green course would be too easy... but since I managed to extend my fun for 90 minutes... 'twas enough for me. Martha's encouraging laughter at almost every control was very stimulating -- I was running and she was walking -- and she was beating me to control after control. She is very good, you know!
It looked like a pretty good turn out and everyone seemed to be having a great time. Big smiles from our new member Andreas... wait 'til you see his time.
I can't wait to go again... Bill.
*****
Bob Domine wrote: Kevin did an outstanding job of putting on the O event this past Saturday at Joe Kurz WMA. It was a wonderful cool January day, but clear and no wind. Thank God it was not like today Feb 2nd with rain and 34 degrees! Thanks Felicia :-)
We had a nice crowd of orienteers in all classes. Kevin put out all the controls the 2 days before the meet sand Kevin and Felicia ran the registration start finish show. What a team!
Flat Stanley and I did the Green course along with several others and had a great time. The course was challenging though not as much as standing up with my spikes on in the Porta John. The course was interesting and very enjoyable. In the book, Flat Stanley, by Jeff Brown, Stanley is squashed flat by a falling bulletin board. One of the many advantages is that Flat Stanley can visit his friends by traveling in an envelope. My Great Niece Korin in Illinois mailed Flat Stanley to Linda and I. So while Flat Stanley was with us I brought him to our orienteering meet Saturday. :-)
Thanks for the help with control pickup by Bill Hill, Jay Scott and Lee Bradshaw. With a team it is certainly easier. Again many thanks to Kevin and Felicia.
*****

Watson Mill Bridge Meet - Jan 17, 2004
Bob & Linda Domine wrote...
What a great time we had at Watson Mill Bridge State Park for the first local meet of 2004. It was great January weather - temperature wise - and a nice day to run in the open woods. Though not a huge turnout, we had about 50 folks predominately in the Yellow and Orange finding their way. Amazingly we had no DNFs or OVTs.
Due to a near impossible schedule from Thanksgiving to January 10th, I asked Daniel and Jay Pittman if they could hang controls for us. They picked them up at our last meet at Mistletoe and I faxed the courses to Daniel on the 9th. Daniel and Jay hung the controls, except the ones near the trails on January 11th, which Linda and I completed on Friday, January 16th. What a great job they did! All the controls were in the right place, with right codes and all went very well at the meet. THANK YOU SO MUCH!!
Bill Cheatum was back in the area and did a great job updating the map with the more recent horse trails and a few other features. The confusion caused by the missing trails last meet was not an issue yesterday at all. Bill hand delivered the maps to us at the official orienteering restaurant in the South - Waffle House on Wednesday 1/14. Bill everyone really liked the map. :-)
It was great to see Shawn Callahan again! He even stayed and helped with control pickup along with Virginia Dick. Thanks to Guido too for helping with control pickup. BTW, Guido, if this was a runners course, how did you beat one runner and almost a second if you hadn't visited #12 twice? :-)
A big thanks to the JROTC unit who helped us with our hasty pickup - when the rain threatened at 3pm. All was put away dry. Thanks also to all who joined us. You made our day too.
Warmest Regards,
Bob & Linda D.
PS - This was additionally rewarding in that it was the second time in less than 6 months that GAOC conducted events in more than one location on the same day. Evidence of both skill and volunteer efforts of the club. Thanks to all!!

More on Jan 17-18 Weekend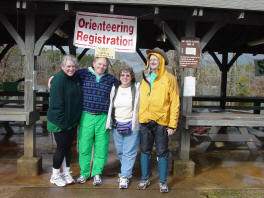 Steve and Robin Shannonhouse wrote:
I want to thank Bill and Martha. They devoted two weekends and a Friday to helping with this event. Sam came one day but got called back for a problem at work. Again thanks for all the excellent help.
Bill Farrell wrote:
We helped out with Frank Campbell's JROTC Champs. A great turn-out and impressive runs. Steve set the courses and did an outstanding job. I am sure that Frank will send a full report along soon. Martha and I helped Steve and Robbie with the set-up (they did 90% of the work) and worked hard to produce an excellent event.
While we were at Lake Russell with the kids, Linda and Bob were offering an other excellent GAOC meet at Watson's Mill Bridge... a 30 minute ride from Lake Russell.
Sunday we offered second day of fun for GAOC back at Lake Russell. The weather was perfect -- that is correct -- NO RAIN! Aren't you sorry you stayed home! Very famous people came in from out of town.
Full reports will follow. Bill.