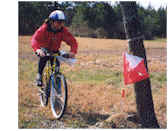 Special Events have a different format than Local Events and may require special skills and pre-registration.
The Georgia Navigator Cup, Interscholastics Champs, Junior Training Camp, and Radio-O/ARDF Champs are large national events hosted by GAOC. All other events are simply variations on the Local Event format.

Bike-O
In Bike-O, competitors use a bicycle to navigate part or all of an orienteering course. When GAOC has offered Bike-O, competitors navigate a traditional orienteering course through the woods on foot, then choose 1 of 3 bicycle courses routed on either gravel or paved roads.
Bubba Goat
The Bubba Goat is the southern version of the famous Billygoat event established by Peter Gagarin in Massachusetts. A "Goat" event is typically one very long course, sometimes with an optional shorter, although still long course. The format is what sets it apart from other Long-O courses. There is a mass start, and following is not only allowed, it's encouraged! Packs of orienteers form, break up, re-form, and competitors may skip any one (or sometimes two) controls, in order to add another element of strategy. The Bubba Goat started in Georgia and has since rotated to the following SE clubs:
| | |
| --- | --- |
| | GAOC - 1996 |
| | GAOC - 1997 |
| | COK - 1998 |
| | VOC - 1999 |
| | FLO - 2000 |
| | BOK - 2001 |
| | GAOC - 2002 |
| | COK - 2003 |
| | GAOC - 2004 |
| | VOC - 2005 |
| | BOK - 2006 |
| | FLO - 2007 |
| | COK - 2008 |
| | GAOC - 2009 |
| | VOC - 2010 |
| | BOK - 2011 |
Canoe-O
Canoe orienteering is a great event to enjoy with the family. Traditional orienteering controls may be places around a lake and in the woods. The course is usually designed as a Score course with points assigned to each control based on difficulty and distance. One or more competitors navigate the course in a canoe and the winner is the canoe team that accumulates the most points within the time limit. GAOC traditionally hosts a Canoe-o at the last event of the season. Pre-registration is not required and canoe rental is available at the park.
Contour-O
Contour orienteering is the same and traditional orienteering however it makes use of a map with only earthen elevation features (contours). All man-made and detail features are removed from the map. This type of even can turn a park that has many trails from very easy orienteering to very challenging.
Extreme-O
Extreme-O is patterned after a three-day military competition held in a member NATO country each year. Typically, competitors orienteer from several different types of maps, including aerial photographs, quads and topographical maps. Past events have included rope bridge crossings, canoe legs, culvert controls, memory legs and other interesting tests. Extreme-O is usually offered on the third day of the Georgia Navigator Cup event.
Georgia Navigator Cup
The Georgia Navigator Cup, GNC for short, is an annual USOF-sanctioned Class "A" event, hosted by the Georgia Orienteering Club. A GNC will usually include 2 days of traditional Orienteering courses, plus an Extreme-O. Pre-registration is required. For detailed information, follow the GA Navigator Cup link in the navigation pane.
National Orienteering Day (NOD)
Orienteering clubs across the nation celebrate National Orienteering Day by scheduling orienteering events specifically designed for newcomers to the sport. GAOC typically participates by hosting a NOD event annually in September. We have more instructors on hand to give more individualized attention to beginners. And we typically waive the event fee. Such a deal!
Night-O
Orienteering at night is challenging and fun. Traditional orienteering bags may be substituted by reflective sticks and competitors light their way with a flashlight or headlamp. GAOC hosts at least one Night-O each year in conjunction with an afternoon of traditional orienteering courses and an evening picnic. Pre-registration is not required.
Radio-O/ARDF
Radio orienteering, also called Amateur Radio Direction Finding, is a really fun radio-active event, using a map, compass, and radio direction finding equipment to locate hidden transmitters in the forest. You do not need an amateur radio license to be a radio orienteer. At every meet there is a suitable challenges for both novice and expert.
Score-O
Where traditional orienteering has specified courses, Score-O is a free form type of event. A smattering of controls are set in the field and assigned a point value based on distance and navigation difficulty. The object of the event is to get the most number of points in a designated time. Each Score-O is uniquely designed by the course setter, but many course setters design the event so that even beginners may win. Points are usually deducted for every minute over the designated time, so endurance and strategy play an important role.
Trail-O
The object of Trail-O is to identify the correct control from a cluster of three or more controls. The orienteer uses all available information, such as clue descriptions, map features, terrain observation and the control arrangement, while viewing the control cluster from a fixed position. Winners are determined by the number of correct controls identified, with one or two timed tie-breaker controls.